BUILDING YOUR DREAM KITCHEN...
Have you ever noticed that your friends and family gather in the kitchen? The household kitchen originated with the simple purpose of preparing meals however, over the years it has evolved into mission control center of the modern home. With that in mind, taking the time to think through every detail of your kitchen will increase the functionality of your daily life. The kitchen is a place where you do everything and everyone always comes back to the kitchen. The kitchen needs to be more than just a place to cook, it is the place where everyday happens.
Here at Home & Haven we will guide you through what is important to you. We pride ourselves on listening to our clients and understanding what "look" they want and what functionality is important to their lifestyle. We take the time to present different layouts and we work with you until you are happy. Since we are the experts, we also offer advice based on the needs that you have communicated. For example, how should I store my Nona's cooking oils and spices, where should I store my Tupperware so it doesn't fall out all at once, or how should I manage all my pots and pans; these can be everyday frustrations that we can turn into efficiencies with the cabinet accessories we love.
CANADIAN KITCHENS
We carry two lines of kitchens that cater to customization and style. We took a great deal of time sourcing these companies, and we think we have covered all our basis. We went on a sourcing mission with three areas of importance in mind; beauty, quality, and Canadian made, and we nailed it! Both kitchen lines are beautiful, that is undeniable, and secondly, the quality of our product will speak for itself. We are proud to display various kitchen doors, and cabinets in our showroom and we invite you to come and see for yourself. Lastly, we wanted to source our products locally, and if not, we wanted to keep the majority of our products within Canada. We haven't compromised on anything and we are excited for you to come in and see your kitchen imagined in real life.
Home & Haven is continually looking to source new products and new lines. We believe that in order to stay current we need to look forward and question where we are and where we are going. We love the fact that there are so many local and Canadian products to choose from, and we are so fortunate to be in the position to deliver those to Sudbury. We are looking to bring in another line in the next year to round out our customization abilities but until then these two companies are exactly what our customers are looking for; a customized kitchen that is exactly what they have dreamt of.
LAYOUT
The way you intend to use your kitchen will influence the layout, style, and your choice of material. If you're an avid cook, you may prefer an open concept kitchen, allowing you to make the most of your culinary laboratory. Experienced hosts/hostesses would certainly take advantage of the entertainment space provided by a center island or bistro style kitchen.
At Home & Haven we recognize that there are many ways to layout a kitchen. Designers all over the world are coming up with different ways to rethink how a kitchen should function. But if we were to circle back to the basic kitchen layout, there are our standard kitchen layouts; Galley, U-Shape, L-Shape, G-Shape. From those layouts you can expand and add an island or islands, a separate coffee and tea area, or design a furniture looking piece to act as a buffet; there are so many ways to think the space. Once you've decided on the layout that best suits your lifestyle, and the space you have to work with, the choice of style comes into play.
STYLE
Popular kitchen styles are traditional, transitional, eclectic, and modern. Between the various kitchen layouts and style choices, it is easy to become overwhelmed by the sheer number of options. Fortunately, we have kitchen experts here at Home & Haven!!
The trends we have been seeing lately are the blend of styles. Formal meets country, modern meets rustic, and eclectic meets functional; these are styles we understand. We pride ourselves on listening to our clients and understanding what look they want and what functionality is important to their lifestyle. With all his information we can guide you to options that fit your description. We really have a lot of fun making your experience exciting for you. We understand that most people only do their kitchen once… maybe twice in their life time, so it is our job to create that unique experience so that the client is left with a sense of accomplishment and pride in their home.
DESIGN
Another important service we offer to our clients is our ability to show the client what their kitchen will look like through our advanced designer software. Home & Haven can draft your design digitally, allowing you to see what your kitchen will look like before you commit to the end product. We can even apply color and pair it with a back splash and flooring; it is truly a value-added service. With our in-house kitchen designer, we can literally accomplish whatever you can imagine.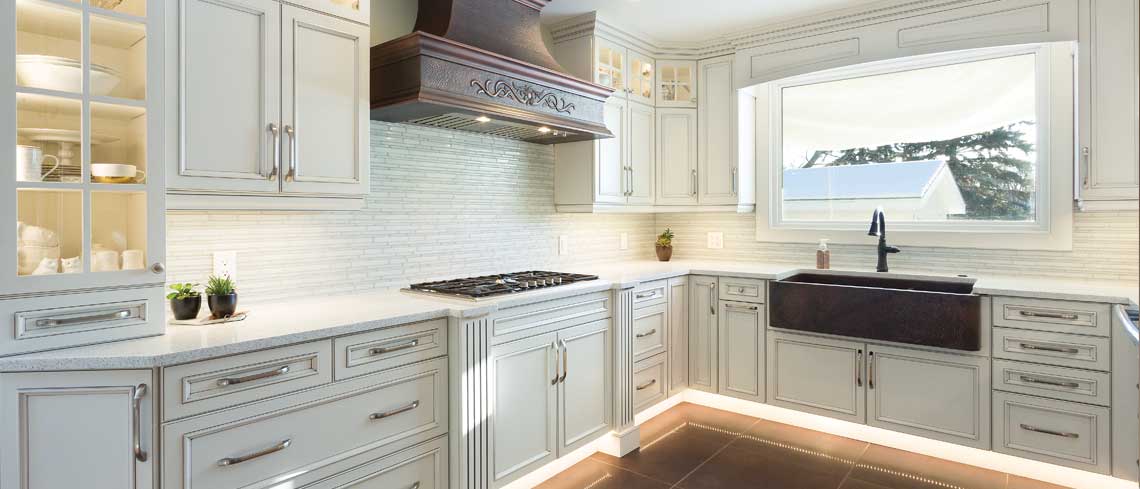 COUNTER TOPS
The counter top can be the showpiece of the kitchen, emulating vibrancy and natural earthy patterns, or it can be simple and classic and have a quiet effect to complete the kitchen look you are trying to achieve. Either way, the counter top truly is something of beauty. It is a fantastic chance to convey your unique personality while creating a conversation piece amongst friends and family. Whichever way you go, I would dare say that no two kitchens are exactly alike. Your best friend with the exact same taste as you could select and walk out with a different cupboard door and counter top combination. There are so many counter top options that you may very well become overwhelmed. We strive to eliminate that stress by guiding you through every step of the selection process.
KHOURI GRANITE
For the latest design trends in stone and quartz counter tops, we have chosen to partner with our local supplier that has been serving the Sudbury community for over 30 years; Khouri Granite. They have the largest full-size slab gallery in Northern Ontario. Khouri is also the first fully automated digital fabrication shop with quick turn arounds, assuring you won't be waiting too long for that counter top to be installed. Their customer service speaks for itself with over 15,000 counters installed in the Sudbury Area alone, you know you're sure to get it done right the first time.
CAMBRIA
Home & Haven also offers a wide variety of stone options. We carry the Cambria line which is majestic to say the least. We have over 100 samples in the store and can order in anything that you see online from the Cambria Catalogue right here at Home & Haven. The stone is sourced in Ontario, manufactured in the US and sent back to Ontario to cut and install. This company is sophisticated and has a limited life time warranty.
In addition to being beautiful, Cambria has worked with different designers to coordinate Benjamin Moore paint colours that coordinate with each counter top they create. The Benjamin Moore paint line goes great with any renovation, and lucky for us Northerners, Sudbury has a great Benjamin Moore dealer in Sudbury, right down the road from Home & Haven. Barrydowne Paint has been working with the Michelutti family for years supplying wood shop stains, so this partnership in referrals is a natural fit.
LAMINATE
For our laminate options, our sole local partner is Dan's Countertops. We've been working with Rick, the Owner since our store opening. He has supplied our showroom with a vast selection of countertops so breath taking, you would likely think they were made of stone. Laminate counter tops have come a long way, and you need to see it to believe it. They are gorgeous and can easily be paired with the kitchen of your dreams; there are so many different edge profiles and pattern options that you could spend a good part of day playing designer.
contact us
Creative project?
Let's start the
conversation.